Leaving a Legacy of Support with Therapy Animals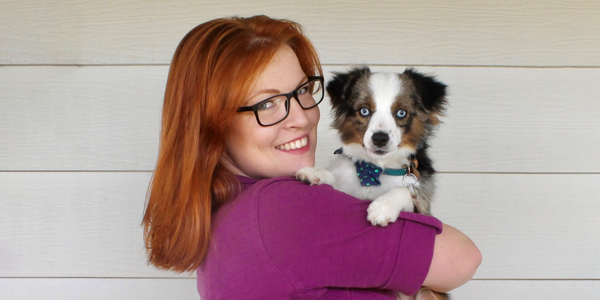 Dr. Laura Pedersen, PsyD, works in a state psychiatric hospital that houses an all-male population who have been deemed to need special mental health treatment by reason of community safety. She provides treatments to these patients to assess their risk and work toward promoting healthy and safe behaviors. Given Laura's educational training and her interest in solving complicated issues for patients, one could say that Laura is well-suited for this challenging role.
Laura has found that her mini Australian shepherd Jameson is eager to assist her at work. They make quite a team when they are meeting with patients, in both group and individual settings.
Laura says, "As a therapy dog Jameson is able to connect in a way that I or any human clinician may not be able to. The patients can touch him and are more attuned to his reactivity, thus learning to be mindful and sensitive to their own nonverbal communication. Using a dog as a cofacilitator can also help increase attendance, instill hope and plans for their future, and give them a truly non-judgmental clinician. Having that support and acceptance alone can do wonders for our population, as for some it may be the first time that a patient has ever felt truly accepted."
In 2017, Laura attended Professionalizing the Passion, a Pet Partners conference. That led her to become involved with Pet Partners as a handler because she embraces science-based information that prioritizes animal welfare and safety.
Since Laura is an essential worker, she has witnessed the impact of COVID-19 in a hospital setting. The effects of the pandemic led her to complete her will using FreeWill, an online will writing service that is provided by Pet Partners. She thoughtfully included Pet Partners as a beneficiary, recognizing that she wants to continue to promote the human-animal bond. An added benefit is that Laura has peace of mind knowing she has a plan in place with a designated person to care for Jameson should that be necessary.
Pet Partners is appreciative that Laura has included our organization in her estate plan, and for the treatment that she provides to people in need.