Caring Community
Caring Community members believe it is important to support Pet Partners mission of improving human health and well-being through the human-animal bond. Pet Partners honors the generosity and vision of these members who have chosen to include our organization in their estate plan whether by a bequest in a will or trust, establishing a charitable trust, or by a beneficiary designation on a bank account, life insurance policy or qualified retirement plan (IRA, 401K, etc.). These thoughtful individuals and families will insure the bright future of Pet Partners animal therapy program.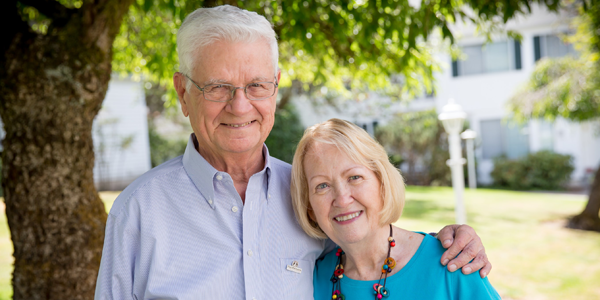 How a Pet Partners Co-Founder is leaving a Legacy
Bill McCulloch, one of the co-founders of Pet Partners (then called Delta Society), and Janice, his wife of 30 years, continue to recognize and support the growth of an organization that makes a positive difference in people being visited by therapy animal teams.
Back in the 1970s, Dr. William "Bill" McCulloch, along with his brother, Dr. Michael McCulloch, and Dr. Leo Bustad, had the foresight to recognize the significance of how pets have a positive impact on human health and well-being. Bill and his co-founders were instrumental in the launch of the first comprehensive standards and education in animal-assisted activities and therapy for volunteers and healthcare professionals.
Given Bill's involvement with Pet Partners for over 40 years, it's no surprise that Bill and Janice wanted to support Pet Partners through an estate gift. They wanted the flexibility to structure a future contribution that would not negatively affect their years of active retirement. Bill enjoys collecting rare books, golf, and visiting with people out walking their dogs, promoting Pet Partners to these dog owners. Janice shares her musical talents by meeting with a group of friends to play classical music for one another, reading, and gardening. Together they continue to travel to visit friends and family.
Bill and Janice decided their legacy gift to Pet Partners would be through a bequest in their will. Along with creating a lasting legacy, naming Pet Partners in a bequest has positive outcomes for them. It may reduce taxes on their family members and this decision may also be positive for estate tax savings.
By their decision to include Pet Partners in their estate plan, Bill and Janice are included in the Pet Partners Caring Community. This is a group of thoughtful individuals who have included Pet Partners in an estate gift such as a bequest, through naming Pet Partners in a life insurance policy, or through a charitable trust, retirement account, or real estate.
Pet Partners is appreciative of the impact that Bill has made in the field of the human-animal bond. With his foresight, Pet Partners has grown to be the leading organization in animal-assisted interventions. For more information on the history of Pet Partners and the significance of Bill's work, please visit the Pet Partners Story on Pet Partners website www.petpartners.org.
For information about how you can join Bill, Janice, and others as a member of the Caring Community, please contact us.