Winging their way into people's lives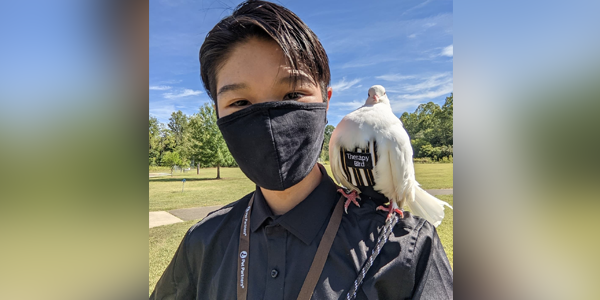 If you live in the Fayetteville, NC area, you may get the chance to see Jhun, a stunning Indian Fantail Pigeon out kayaking or hiking with her owner, Jo Lam. Wearing a harness specially fitted for birds, Jhun is ready and willing to accompany Jo on outdoor adventures.
Jhun was a rescue after being used in a "dove release" at a wedding ceremony, and Jo decided to adopt the bird. Jhun is very calm, enjoys being with people, and is well suited to be registered with Pet Partners as a therapy animal.
Jo has had an interest in birds for many years, and Jhun is just one of the birds in Jo's aviary. He also has two cockatiels, and a green-cheeked conure. Jo appreciates their beauty and the curiosity that people have when encountering a bird during therapy animal visits.
Jhun and Jo bring delight to all they visit. Some of those visits are to residents at the Carriage House, a senior assisted living center in Greensboro. Jhun is always a big hit! People are amazed how calm and attentive she is. Many people are captivated by her beauty and they enjoy petting her and having her perch on their shoulders. Under Jo's supervision, they also give her plenty of treats.
Not only do Jo and Jhun bring comfort and empathy through their visits, but they also participated in Pet Partners' most recent World Largest Pet Walk, walking in a parade for children with disabilities. Their participation in the walk helped bring awareness to birds as therapy animals and the benefits therapy animals can have on human health and well-being.
When Jo noticed that Pet Partners offered FreeWill, a free online will-writing service to volunteers, he decided the time was right to make a will. Jo found FreeWill so simple to use that he completed the process using a mobile phone. When it came to listing a nonprofit as a beneficiary, Jo included Pet Partners as the recipient of a future gift. Jo's decision to list Pet Partners as a beneficiary was made because he understands the power of therapy animals. He says, "It is amazing to be able to spread joy during these trying times."
While Jo and Jhun continue to spread kindness and empathy to those they visit, Pet Partners appreciates that Jo partners with a bird for therapy animal visits, recognizing that Jhun brings attention and awareness to the benefits of having birds as pets, along with birds being intelligent companions.