Paying it forward with a future estate gift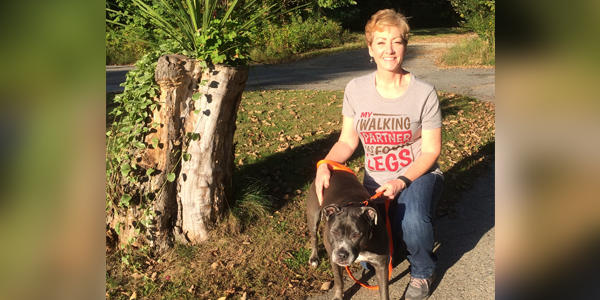 When Nikki, an American pit bull terrier, had a lump on her leg, her owner Carolyn O'Leary wasted no time in taking her to the vet. That was a smart decision on Carolyn's part: Nikki was diagnosed with cancer. Fortunately, Nikki was treated successfully and has been well ever since.
During Nikki's treatment, Carolyn was able to tap into Pet Partners' Cancer Care Fund, which distributes funds to veterinary clinics when registered therapy animals have undergone treatment for cancer. Thanks to the generosity of foundations and individuals, Pet Partners is able to support our volunteers by offsetting the cost of cancer treatments when they are going through a stressful time.
Carolyn is grateful for the assistance she received from the Cancer Care Fund, so when she made her will, she "paid it forward" and included Pet Partners in her estate plan. She chose to use FreeWill, an online will writing service that Pet Partners has made available to volunteers. Carolyn found FreeWill simple and easy to navigate. Now Carolyn can rest assured that her estate plan is in place to take care of the people she loves, the nonprofits she supports, and of course, Nikki.
Carolyn and Nikki look forward to resuming their therapy animal visits at facilities like U Mass Memorial Health Center, where Nikki shares her affection and love with pediatric patients. Nikki has yet to meet a stranger; Carolyn noted the special bond that Nikki made with a client with Down syndrome at the Worcester Recovery Center and Hospital, another facility they visit.
Patients at the facilities often tell Carolyn that Nikki is their favorite therapy animal. They love her playful personality! One woman told Carolyn she was afraid of pit bulls and decided just to watch Nikki interact with other patients. After a few minutes of playing catch, Nikki brought the toy to this patient, dropped the toy on her lap and looked up at her. The patient said to Nikki, "You're not bad, are you? Your eyes are the color of honey." Carolyn said it was a heartwarming moment and trusts that Nikki is changing people's opinion of pit bulls with each visit.
Pet Partners is grateful not only for the time and talents that Carolyn and Nikki share with those they meet, but also for Carolyn's thoughtfulness in including Pet Partners in her estate plan.