Giving back to Pet Partners in multiple ways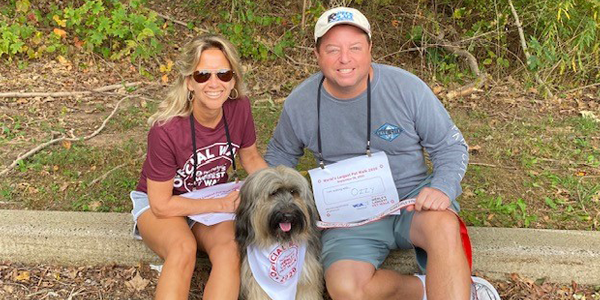 Leaving a legacy to a nonprofit usually means a financial legacy through an estate plan. It can also mean providing a vision for a new opportunity for a nonprofit to pursue. Kay Mooney has generously left both types of legacies to Pet Partners.
Kay Mooney was instrumental in opening a new door for Pet Partners to step into. In 2016, under Kay's leadership as VP of Workplace Well-being at Aetna, Pet Partners was invited to begin a pilot therapy animal program in the workplace. These visits by our registered teams were a success from the beginning. Bringing joyful environment and stress-reduction to Aetna's offices.
What started as a pilot program led to success with an employee survey which reported that 99% of employees shared that their mood had improved and 99% felt like they were more productive, after these team visits. By working with Kay and Aetna, the Pet Partners Animal- Assisted Workplace Well-being program was launched.
Although some of these workplace visits are on pause during the pandemic, it is anticipated that once it is "business as usual" the requests for visits by Pet Partners registered teams will be in high demand.
After a successful thirty- year career at Aetna, Kay is retired. Retired but not idle living in Naples Florida. Kay joined the Pet Partners Board of Directors in 2017 sharing her business experience and ideas to support the mission of Pet Partners. Kay also participated in the 2020 World's Largest Pet Walk (WLPW) with her Tibetan Terrier, Ozzie. These two make fitness a priority, often logging 5 miles a day on their daily walks. They are ready for the WLPW in 2021.
Kay embraces the Pet Partners mission so fully that when it was time to update her estate plan, Kay and Mark, her husband, chose to include Pet Partners as one of their beneficiaries of their will. Her intention is to leave a legacy gift to ensure that therapy animals continue to support communities through visits to hospitals, schools, Veteran's facilities, libraries and to employers.
Pet Partners appreciates the time, talents, and treasures that Kay has shared with us. Not only has Kay left a future gift to Pet Partners but she has opened a new avenue of opportunities for our organization.