A Lifetime of Living the Human-Animal Bond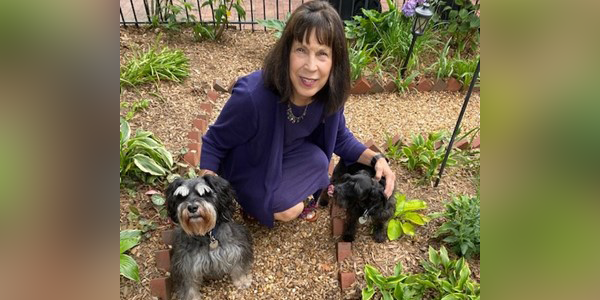 Animals have been part of D'Ann Downey's life since she was a child. Growing up without siblings, D'Ann had family pets as an important part of her childhood. Her relationship with animals continued to serve D'Ann well throughout her life and even in her career. D'Ann has a doctorate in clinical psychology and during her practice with individuals of all ages she experienced the advantages of incorporating animals in working with her clients. With a career spanning nearly 40 years, D'Ann retired in early 2021, but she remains active in promoting the human-animal bond.
D'Ann first learned about Pet Partners when she was completing her doctorate in clinical psychology. Her subject was "Understanding the Human-Companion Animal Relationship: A story of Middle-Aged Women and their Companion Animals." When D'Ann began searching for information on this topic, a significant amount of material surfaced from Pet Partners (then known as Delta Society). This information was invaluable to D'Ann. From there, she became involved with Pet Partners, and has been since 1998.
Fully embracing the human-animal bond, D'Ann started Compassionate Paws in 2007. Located in Rome, GA, this organization is a community partner of Pet Partners, with approximately 25 Pet Partners teams serving about 10 counties. Her involvement in Pet Partners includes recently completing the coursework to become a volunteer instructor; D'Ann is currently scheduling workshops for new Pet Partners volunteers.
During the pandemic D'Ann accompanied a therapy animal team on a visit to a nursing home. With COVID-19 restrictions in place, they were only able to make window visits outside the building. One visit was particularly impactful for D'Ann, when the therapy dog put their paw on the window and the resident put their hand up to meet the dog's paw. Like many other people who are compassionate about these visits, it is in connections like this that D'Ann clearly feels the human-animal bond.
With D'Ann's passion for the human-animal bond, she took her involvement with Pet Partners one step further. D'Ann has included Pet Partners with two other nonprofit organizations in her estate plan, through her will. D'Ann hopes that this future gift will make a difference for both animals and people. She wants to make a positive difference for nonprofits and leave a legacy for the future.
We are grateful for all the time, talents, and financial resources that D'Ann shares with Pet Partners. For information on how you can include Pet Partners in your estate plan, please visit petpartners.giftlegacy.com.