A Life of Service with Animals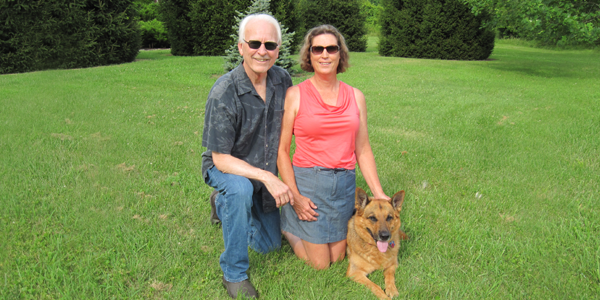 Work schedules have been upended for many people during the pandemic. That's certainly the case for Craig Carter, DVM (Doctor of Veterinary Medicine) who can often be found working seven days a week. But Craig doesn't complain. "I am doing the work I love at the University of Kentucky Department of Veterinary Science." Along with keeping the diagnostic lab running, overseeing 75 faculty and staff, conducting infectious disease research, and working with graduate students, it is amazing that Craig still takes time to stop to smell the roses.
Fortunately, Craig has plenty of flowers to enjoy. Ronda, his wife of 34 years, is a master gardener and talented landscaper. Along with Haiku, their German Shepard, the Carters live on a farm in Kentucky.
From attending Veterinary School at Texas A&M, operating a mixed animal practice for an animal shelter in Texas, and now his role at the University of Kentucky as director of a veterinary diagnostic laboratory, animals have been an integral part of his life.
Serving forty years on active and reserve military and US Army has also given Craig the opportunity to be with animals. He worked with dogs to sniff out dangerous mines, explosives and provide post security. Craig commanded the first US Army Veterinary Corps unit into Afghanistan after 9/11. His unit cared for medical and surgical care for Military Working Dogs (MVD's), food safety and security for troops. The Veterinary Corps also advised the Army Surgeon regarding zoonotic diseases, transmissible from animals to humans. Craig has participated in four wartime deployments, retiring as Colonel in 2009.
His interest in public health and One Health (CDC's One Health recognizes the connection between the health of people, animals and the environment) combined with his passion for animals led Craig to become engaged with the mission of Pet Partners (then Delta Society) in the 1980's. Bill McCulloch, DVM, co-founder of Delta Society tapped Craig, his graduate student into getting involved with the organization.
Given their passion for animals, when Ronda and Craig focused on their estate plan, they decided to include Pet Partners as one of the beneficiaries
Having worked with animals for over 4 decades, Craig understands that the human-animal bond can make a positive difference in people's lives. "I strongly believe in the power of animal-assisted therapy and the physical and mental benefits of having a pet" comments Craig. He and Ronda support the many Pet Partners programs that bring comfort to millions of individuals across the US.
The legacy of the Carters will ensure that our volunteers and their animals will continue making animal-assisted visits for generations to come. For more information on this topic, visit https://petpartners.giftlegacy.com .