Using Life Insurance to Support Pet Partners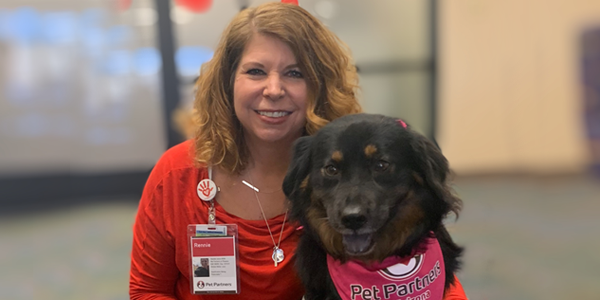 Rennie Karnovich remembers the visit at Phoenix Children's Hospital when she and Lucy, her animal-assisted therapy dog entered a hospital room of a young patient. The child's mother informed Rennie that the child was immobile. Rennie lifted Lucy to the side of the bed and slowly, the child's hand inched out from underneath the sheet to rest her hand on Lucy's head. That pivotal moment caused the patient's mom to start crying and that meaningful visit has stayed with Rennie.
Rennie has been involved with the Pet Partners therapy animal program since 2006. Rennie works at Phoenix Children's Hospital in the IT Department where she serves as a Business Systems Analyst helping staff navigate computer applications. Although Rennie works full time at the hospital, she and Lucy continue to make weekly visits to patients.
This dynamic duo not only make a positive impact on those they visit but Rennie is also committed to sharing her love of therapy animals by including Pet Partners in her estate plan. Rennie is supporting the future of therapy animal work by naming Pet Partners as a beneficiary of her life insurance policy. Rennie commented that there was no paperwork involved, it was as simple as adding Pet Partners on a beneficiary form.
Pet Partners is appreciative of individuals who have named the organization in their estate plan. This thoughtfulness allows Pet Partners to continue to grow to serve more people.
Naming Pet Partners in a life insurance policy as a percentage of the policy is simple. Contact the administrator of your policy to add a beneficiary. Pet Partners Tax ID is 91-1158281. For more information visit https://petpartners.giftlegacy.com.